New Homes In Waterford, ON, including Bungalows, Raised Bungalows, Semi-Detached in many sizes
Cedar Park Phase One is now sold out! Phase Two starts March 2021
Discover the lifestyle and community that you always knew you wanted! Cedar Park in Waterford offers the perfect blend of tranquility and comfort!This subdivision is nestled in a mature area surrounded by scenic beauty. You can access Cedar Park from both Washington Street and East Church Street in the quaint town of Waterford. Boasting large pie shaped lots, extra deep lots, a landscaped wet pond and a park, this could be your new home!
Rustic Waterford has it all!
Enjoy a lifestyle of relaxation in beautiful Waterford, Ontario. Cedar Park Phase One is sold! Cedar Park Phase Two starts March 2021 so you'll have another opportunity to own the dream home you've always wanted.
Register now using the convenient registration form below.  You're under no obligation but you'll be next in line to consider a gorgeous Cedar Park home. Cedar Park includes 6 models and variations for incredible flexibility and choice. Browse the gallery below.
Featured Elevations in Waterford's Cedar Park

The Lotus
This stunning 1244 sq foot semi detached home features open concept living room/dining room with breakfast bar. Enjoy a covered front porch with foyer and a mud room off of the garage. This home features two bedrooms, including a main floor master bedroom with a beautiful ensuite.

The Canadian
This 1256 sq foot all brick raised ranch is perfect for growing families. With an open concept kitchen, dinette and family room, three bedrooms and bath, it fits any lifestyle!

The Admiral
Our 1416 sq foot bungalow  model boasts a spacious layout, with a bright open concept kitchen with island, eating area and family room. The plan also has 3 bedrooms and two baths. The master bedroom features a walk in closest.
The Osborn
This 1718 sq foot bungalow has been our most popular bungalow plan since the first time we built it in 2003. this plan has an open concept living area separate from the bedrooms. Main floor laundry, formal dining room, large kitchen and family room and an ensuite with walk in closet. This plan has everything you have been looking for.
Glendale
Gorgeous, modern and spacious, Glendale is a roomy two story design with lots of space for growing families.
The Barnes
Our most popular raised ranch plan at 1327 sq feet on the main floor, the entry boasts a 12 foot ceiling along with the open concept feel of the living, dining and kitchen area, three bedrooms and a bath with a large tile shower and a Jacuzzi tub with mosaic tile surround. This plan is on display as a model home.
The Cedar house
Our 1500 sq foot bungalow is air and roomy, when you walk in the front door you see the large windows in the family room with a beautiful view to the greenspace that surrounds the subdivision.
VIEW THE STANDARD FEATURES AVAILABLE WITH THE CEDAR PARK BY CLICKING HERE.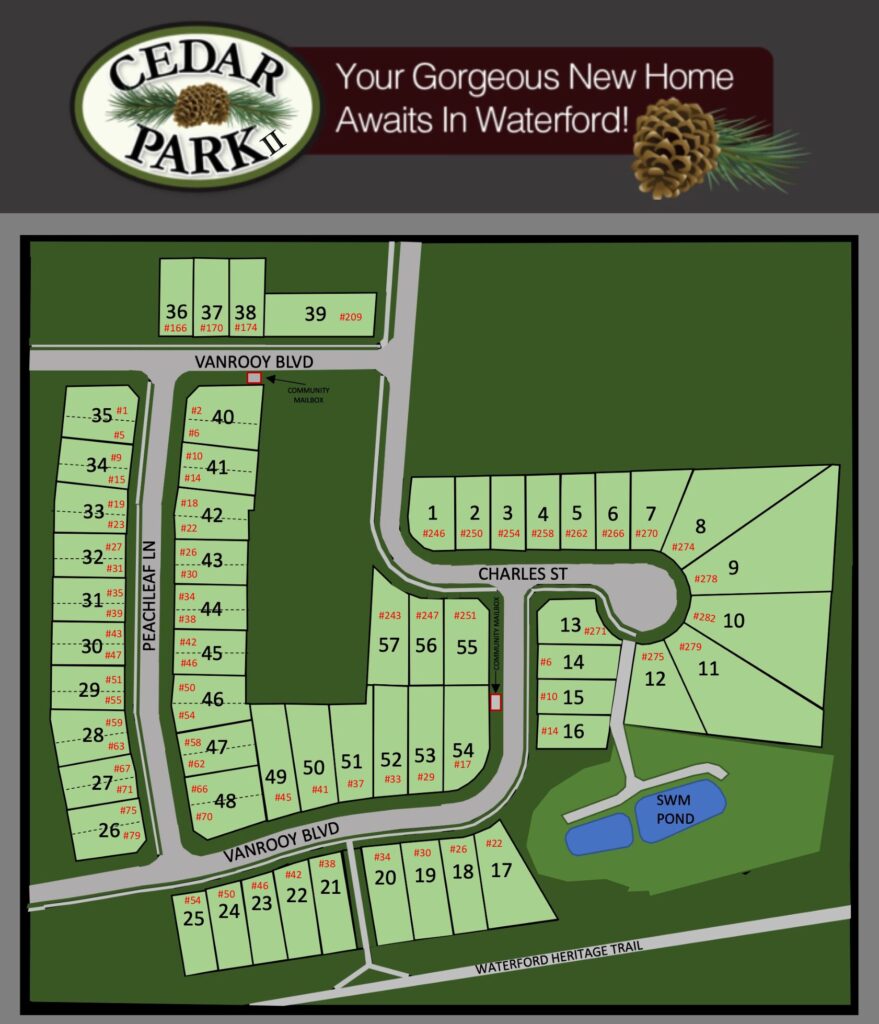 Avoid Disappointment – Register Now
Our clients say it better than we ever could! We have a long list of satisfied home owners who recommend us at the Brantford home builder of choice. Ask us for references and we'll put you in touch with previous clients.
We highly recommend Spadafora Homes. We have found Tony Spadafora to be genuinely interested in the workmanship in our home. He has made every effort to ensure each aspect/feature of our house is what want. Whenever we have needed to confirm something on the house or have wanted to go and see our home during the building process, Tony was always there at the drop of a hat. If there was something that we wanted added or modified, Tony always listened, provided his professional opinion and ideas and made the change. We have also found his trades to be professional with the same desire to do a good job.

With just over two weeks to move in, we are very excited about our new home and are happy that we chose Spadafora Homes.
We chose Spadafora Homes for our new home in 2006 because they came highly recommended by friends of ours. We started the process by choosing a lot and then drafting up a plan to suit our family of 5. Four months later we moved into the home of our dreams and we couldn't have been happier.

Tony and Michelle made sure that they guided us through every step of the process and when we weren't sure about product choices we had made, they were sure to let us know what they thought would work better for us. We loved that we could come on site as often as we wanted to watch the progress and we could converse with the amazing trades people and ask questions and make changes!!!

Tony, as a builder and as a person was very professional and obliging in every way. He has many professional people working for him and they had many years of experience and it showed when I came to visit my house being built daily. Tony didn't mind making changes and I was able to choose all of my fixtures without a problem. I have been in my home for almost two years and I have no complaints. Tony was a person who looked after details and was always there checking all of the work that was being done.
We knew that our dreams would be realized when we sat down with Tony and Michelle to design our custom home. They helped us make major decisions when we felt indecisive and we never second guessed those decisions. At the end of the day we knew we were heard loud and clear when we met to do our walkthru, the house was exactly what we had imagined! Our dreams became reality with Spadafora Homes.
THINKING ABOUT A CUSTOM HOME?
Let us design the one-of-a-kind home of your dreams.
We pride ourselves on superior quality, beautiful design and a positive and personal home buying experience. A look through our custom home and community galleries show our attention to detail and dedication to quality at every step of the home building process.